Leading Korean cosmetics brand arrives in Chile
Coreana Cosmetics Co. is one of the leading cosmetic companies in South Korea, dedicated to the research, manufacture and distribution of cosmetics for more than 30 years.
The accelerated biogenetic development and research, especially in the last decade, has allowed new skin care products to compete and become real alternatives to traditional brands.
On the other hand, a few years ago we learned about the importance given in Asian culture to skin care, regardless of age or gender. In this scenario, Korean cosmetics or K-Beauty stands out, which is characterized by the use of natural ingredients in high concentrations, and where prevention plays a key role.
Korean nature to care for your skin
Coreana Cosmetics Co. Ltd is one of the leading cosmetics companies in Korea, with 14 brands in its portfolio, including specific lines of dermocosmetics. His vision is to share beauty with clients from all over the world, faithful to the motto "Art through Nature". They are pioneers in the development of cosmetics based on natural products enhanced with the use of cutting-edge technology together with a responsible management philosophy, which they achieve thanks to research in their own laboratories and without using ingredients of animal origin in any of their brands. .
"Our purpose is to offer the best beauty and personal care solutions, which is why we made the decision to bring to our country the brands of the Coréana laboratory, which are first class," says Ignacio Fuenzalida, commercial manager of C- Trade, exclusive representatives of Korea for Chile and other countries in the region.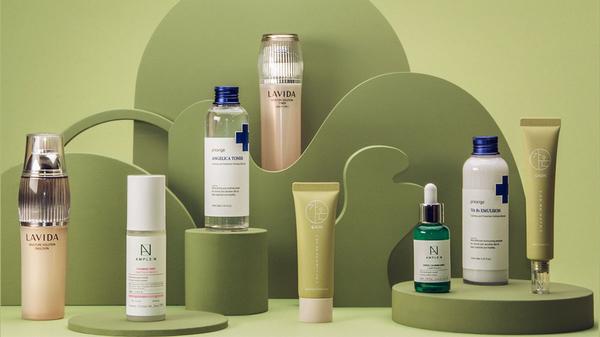 Input marks
The first brands from the portfolio that C-Trade introduces into the Chilean skin care market are LAVIDA, GAON, Preange and Ample:n, each one for specific segments and audiences. "It should be noted that Coréana has its own research laboratories, where, thanks to the latest technology, 481 exclusive formulas have been patented so far," adds Fuenzalida.
LAVIDA: Aimed at a more selective consumer, it is summarized as the highest technology and research at the service of skin care. In fact, LAVIDA has been named Brand of the Year for 7 consecutive years, and its Powercell Essence product has just received the Brand of the Year Grand Prize in the anti-aging cosmetics category, for the 9th consecutive year. Its components include Powercell TM, made up of Phyto-S1p and Cell Sap (Coréana's patented ingredient made up of vitamins, amino acids, hyaluronic acid and collagen) and Botanical Complex, also exclusive to Coréana and made up of four extracts of natural compounds from Asia.
GAON: It is the last great launch of the laboratory, a 100% vegan line for sustainable beauty. GAON eliminates all non-essential ingredients to create Korea Vegan Agency Certified balanced products, from raw materials to processes, including recyclable packaging and soybean oil ink. Oriented to hydration and protection of the skin, GAON proposes the new concept of "skip care routine" -few products with multiple functions- providing well-being without irritation thanks to the power of the natural seeds and sprouts used in its composition.
Preange: Complete dermocosmetic line for sensitive skin or skin with specific needs, developed from the essential oil of the Angelica root, known as the sacred plant for its healing properties and its soothing power for irritated skin. The different products also contain Panthenol (or Pro Vitamin B5), a precursor of cell renewal, repairer and healing; Waterfull Complex, an ingredient patented by Coréana composed of highly moisturizing natural extracts, and Ceramide Complex, also patented by the laboratory, with different types of ceramides that act directly on the skin, strengthening the skin barrier. The entire Preange line is hypoallergenic and dermatologically tested.
Ample:n: Dermocosmetic brand launched in 2017 with an emphasis on micro dermashot technology, a very high concentration of ingredients such as hyaluronic acid, ceramides or gotu kola in an ampoule, which came to revolutionize skin care. Centel Calming Ampoule, based on centella asiatica, known as tiger balm for its highly soothing, repairing and healing properties, as well as its high moisturizing and antioxidant power; Peeling Shot Ampoule, which stimulates cell renewal and elimination of dead cells, illuminating, lightening and eliminating spots, thanks to its composition that contains triple alpha-hydro acids, and Ceramide Shot AMpoule, an intense moisturizer with a high concentration of Ceramide Complex, ideal for dry skin or cracked. The Ample:n line also includes toner, emulsion, spray and moisturizing cream.
Find the Córeana brands at www.coreanachile.cl, Ripley,cl, Paris.cl, Falabella.com, and Mercado Libre
Advertising
Tags:
when korean cosmetics